Possability People and Brighton Chamber of Commerce launch exciting new project
A new project aimed at getting the right people into the right jobs has been launched by Possability People and the Brighton & Hove Chamber of Commerce.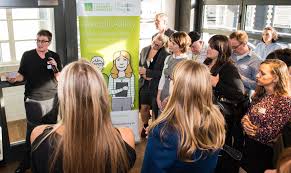 Recruit Ability helps disabled people fulfil their potential and enhance the business that employs them. The project is funded by the Department for Work and Pensions.
Local businesses joined the Recruit Ability team at Franco Manca to launch the new project.
Geraldine Desmoulins, Chief Officer for Possability People said "it's fabulous to see so many employers who want to do something positive so disabled people can get into work. And why not? As employers, we all want the best people for the job".
Also at the event, businesses were able to sign up to the new government scheme, Disability Confident, which registers them as actively recruiting and retaining disabled people.
Geraldine continued: "With 50% of unemployed people being disabled, it is very clear that we need to do something. We know the biggest barrier to work is perspective; Recruit Ability is all about changing attitudes and encouraging businesses to shift their focus."
Recruit Ability wants potential employers to introduce work trials for people and will support the practical needs in the work place to best accommodate a disabled person. With the right encouragement, Recruit Ability believes that anyone can get and retain a job regardless of impairment.
Recruit Ability builds on a previous project called Journey 2 Employment. One of those helped by the project was Sue Bello, from Southwick. After a dramatic change of circumstance, she lost her confidence and was feeling increasingly cut off from her local community. Her fluctuating health condition had made it hard for her to attend appointments and meet up with friends, let alone get back to work.
Possability People worked with Sue to help her build her confidence and IT skills. She even helped other course members who wanted to learn how to use the computer. She began to identify her strengths and take steps to improve her situation. Once she felt ready, Sue began applying for jobs and was successful at getting a retail position. She used the coping strategies she learnt via the Journey 2 Employment course, which meant she could manage her condition and stay well at work.
Sue says "My confidence has improved and so has my social life. I am able to get out and about and meet up with people more. I feel like a different person. Thank you for helping me to get my confidence back."
For more details about Recruit Ability please contact Mandy Crandale on: 07795 90 49 27 or email work@possabilitypeople.org.uk.